COMMISSIONS: DM me!!
Yo!!!
I'm taking some clean sketch/emote commissions! Please see the details of what products I'll be providing below and if you'd be interested. My DMs are open for any questions you have!!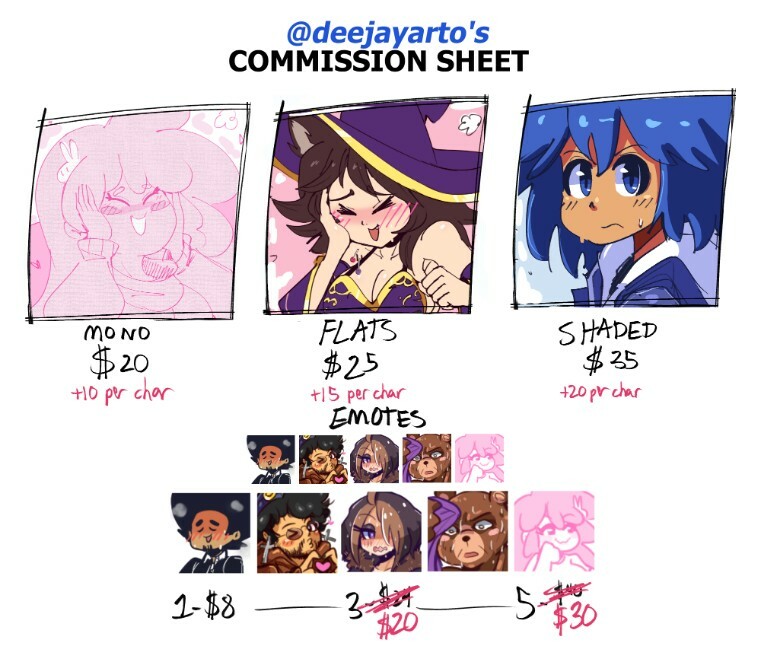 Full Character Sketches
Full Sketch BW/Mono Color- 20 USD (+10 per extra char)
Full Sketch Flat Color - 25 USD (+15 per extra char)
Full Sketch Shaded Color - 35 USD (+20 per extra char)
Twitch/Discord Emotes
1 Emote - 8 USD / 3 Emotes - 20 USD / 5 Emotes - 30 USD
-----
Will Do:
- Original/Franchise Characters
- Pin Ups/Poses
- Action**
No Go's**:
- Furry
- Mecha
- Vehicles
- Gore
- Extremely detailed accessories
** These subjects are not my strong suit, but based on your request I may give it a shot.
It is not guaranteed I will do them.
-----
Please DM me on Twitter (@deejayarto) or Discord (DeeJayHD#8783) with the details of your requests and as many references you'd like to share for your character/poses, as well as references or ideas for emotes you may like. I'll let you know whether I've accepted your request as soon as I see it. If you prefer connect via email, contact me directly at duraeruart@gmail.com with COMMISSION in your subject (It may be a while before I see it though).
Payment through Paypal Invoice only. I'll send out the Invoice after sending a rough sketch of your commission that you're satisfied with, changes and revisions included. Once the payment is received, the clean up and coloring will be started and shared when completed.
Let me know if you'd like your commission to be kept private.
-----
Additional Notes:
I won't bite! Let me know what you're thinking about, I'm willing to discuss how you'd like your request done.
I prefer communication over Twitter or Discord, as I check those apps the most.
I reserve the right to decline a request for any reason.
Estimated work time may range from 3 days to 2 weeks.